10 Tips for Improving Your Google Search Ranking in 2023
Are you having trouble improving your Google search ranking? If that's the case, you're not alone. Improving a company's visibility on the most used search engine in the world can be difficult for most brands.
But there are many creative ways to improve your ranking and increase visitors to your website. 
Today, our article will provide you with 10 useful strategies to raise your Google search ranking. We will show you how to boost your online visibility. So let's take a look! 
What is the Google Search Ranking?
A website's or webpage's position in the search engine results pages (SERPs) for a particular query or keyword is referred to as its Google search ranking.
Google ranks web pages based on a number of characteristics, including content quality, user experience, relevancy and authority. The platform assesses the overall relevance and quality of a search query. 
For businesses and websites, Google search ranking is crucial since it affects how visible and accessible their material is to potential consumers or visitors.
More visibility and traffic from higher ranks can result in higher engagement, conversions and financial returns. So it's very clear that rankings play an important role in the online strategy of any brand. 
One can utilise a variety of methods and strategies to improve their Google search ranking. Google also offers a variety of tools and services, such as Google Analytics, Google Search Console and Google My Business.
These tools are there to assist you in monitoring and enhancing the search ranking. The importance of Google search ranking should not be underestimated. But it's just one of the components of a bigger picture.
In addition to social media, email marketing and paid advertising, businesses and website owners should concentrate on these platforms. They need to reach their target markets properly and meet their marketing objectives. 
10 Tips for Improving Your Google Search Ranking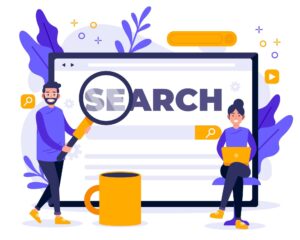 Improving Google search ranking can be challenging. But with the right approach, you can have great results in a short time. The most important thing is to have patience during the process.
Let's take a quick look at 10 tips that you can use to improve your search ranking on the most popular search engine in the world. 
Optimise Your Website for Voice Search
More and more users are using voice search to discover what they need. This is due to the rising popularity of virtual assistants like Amazon Alexa and Siri. Because of this, it's crucial to optimise your website for voice search by adding long-tail keywords and natural language expressions. 
Create and Publish Blogs
Publishing blogs on the website is a fantastic method to increase visitors and raise the search engine ranking. It gives you the chance to share your knowledge and give your readers useful information.
Blogs also increase the authority of your website. As a result, you will have more traffic and generate better leads. 
Leverage Social Media 
Social media integration is an effective way to improve your search engine ranking. To increase traffic to your website, share your blog posts, articles and other information on your social media platforms.
Today, you can reach a wide range of target segments through social media. So you can definitely consider this method. 
Use Video Marketing
A wonderful way to stand out in the congested online world is by using video marketing. You can raise your search ranking by producing interesting videos.
The videos should highlight your goods or services. You should also make sure that the videos are optimised for search engines. There are numerous tools and platforms that can help you produce stunning videos. 
Optimise Your Images 
Your search ranking can be significantly boosted by images. Your pictures will be optimised if you use keywords in both their file names and alt tags.
Many website owners and digital marketers overlook this key factor. However, optimising the images should be one of your top priorities for getting better rankings. 
Use Long-Tail Keywords
Long-tail keywords are more specialised, less competitive phrases that you can place in your web content. These keywords are more likely to bring relevant traffic to your website.
You can use a number of SEO tools, like Semrush and KWFinder, to look for these keywords. You can also seek the help of an expert SEO specialist for this purpose. 
Optimise for Featured Snippets
The summary responses that are displayed at the top of a search results page are known as featured snippets.
You can optimise your content to improve the likelihood that it will show up in the featured snippets. Always remember that your content quality should be suitable for being shown in the featured snippets. 
Use Internal Linking
Internal linking refers to the practice of linking to other pages on your website. It can be a great way to enhance your search ranking.
Internal linking can also help the search engine understand the architecture of your website. Just make sure that you follow the latest SEO trends and include quality links. 
Optimise for Local SEO
You can also optimise your website for local SEO. Local SEO practices include adding your location to your title tags and meta descriptions.
You also have to focus on the local keywords and develop content accordingly to optimise for local SEO. This strategy can be very effective, but we highly suggest working with an SEO expert to get good results. 
Fix Common SEO Issues
Fixing basic SEO issues can help improve your website's search engine ranking. It will also improve the visibility drastically.
Address issues such as duplicate content, slow loading speed, broken links and poor mobile responsiveness. You will be surprised at the difference in your website's performance after solving these problems. 
Conclusion
We hope that you have found this article useful. Always remember that improving the search ranking can take time.
You need to have patience throughout the process in order to get the best results. We highly suggest working with experienced web developers, SEO experts and content developers to create high-quality websites that can rank easily.